5G the buzz word at CIIE
2019-11-07 03:16:52 GMT
2019-11-07 11:16:52(Beijing Time)
Sina English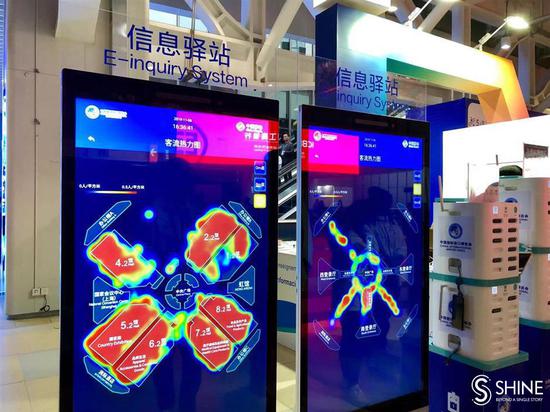 An e-inquiry system displaying real-time traffic information in the CIIE halls, based on 5G networks.
There's no escaping 5G, which offers faster Internet connections and lower latency, during the ongoing China International Import Expo.
In addition to tech firms such as Qualcomm, Samsung and Nokia showcasing their latest 5G technologies and devices, firms involved in health care, new materials and even cosmetics are also displaying 5G-related applications.
Philips is demonstrating 5G applications in health care, covering remote monitoring, precision indoor and outdoor positioning, communication, connectivity and remote intervention. The new technologies also boosts development in wireless medical ecosystems by 5G and the Internet of Things.
China is now Philips' No. 2 regional market and a key engine for its global revenue growth, the company said.
AGC, a new materials firm offering new-technology glass, displayed a car model with a roof integrating glass and 5G antennae. GE and Dupont are showing 5G applications in materials and working processes.
A cosmetic firm is highlighting 5G applications used to track supply chains and virtual reality experiences which help consumers better understand make-up effects.
China Mobile has set up several e-inquiry kiosks featuring 5G networks, which offer information, video broadcasting and real-time traffic tracking. There are several dozen kiosks in the CIIE halls, the carrier said.
More than 130 5G base stations and 2,795 indoor mini-stations have been set up at the expo venue and neighboring Metro stations and hotels, according to government officials and local branches of China Mobile, China Unicom and China Telecom.