Hot Words: willow and poplar catkins 杨柳飞絮
2021-04-07 07:30:51 GMT
2021-04-07 15:30:51(Beijing Time)
Sina English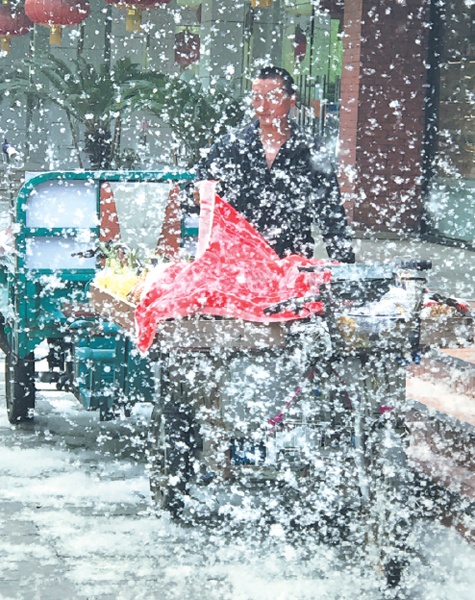 As the week begins, the capital's downtown and southern parts will see willow and poplar catkins wafting through the air, and the city's northeastern areas will start to face the problem a bit later, between Wednesday and Saturday, according to the forecast.
【词汇讲解】
Waft这个词可以用作动词或名词,表示"漂浮、飘荡"或"一股、一阵"等意思,比如:a breeze wafted through the door(一阵清风穿门而过),a waft of fragrance(一股幽香)。
【知识点】
杨柳树(willow and poplar)属于雌雄异株,飞絮来自杨柳树的雌株("female" willow and poplar trees)。春季雌花序授粉(pollination)后生成一个个小蒴果,发育成熟的小蒴果逐渐裂开,白色絮状的绒毛(fuzzy tufts)便携带着种子随风飞舞,借风力传播种子,繁衍后代,形成了"杨柳飞絮"(willow and poplar catkins),是植物正常的生理现象。
飞絮漫天飞舞,看上去很美,却是很大的过敏源(source of allergy)。由于飞毛飞絮质地轻,随风飘舞时会带起地上的脏物、灰尘,从而影响空气质量。同时,飞絮很容易成为病菌携带者和传播者(bacteria carrier and communicator),导致眼鼻喉等产生炎症和皮肤过敏等。另外,飞絮还是易燃物(flammable),一旦遇到火源,很可能引发火灾事故。
The Beijing Gardening and Greening Bureau encourages people to wear masks, sunglasses or shawls to protect themselves during the catkins period.
北京市园林绿化局建议人们在飞絮期间外出时佩戴口罩、墨镜、纱巾等防护用品。
People who exercise outdoors should do so in the mornings or evenings, or after rain, when there will be fewer catkins, the bureau said.
进行户外锻炼等室外活动尽量选择在早晨、傍晚或雨后等飞絮较轻的时段。
【相关词汇】
抗污树种 pollution-resistant tree species
过敏源 source of allergy
高位嫁接 top grafting
树木多样性 diversity of trees
绿化工程 greening projects