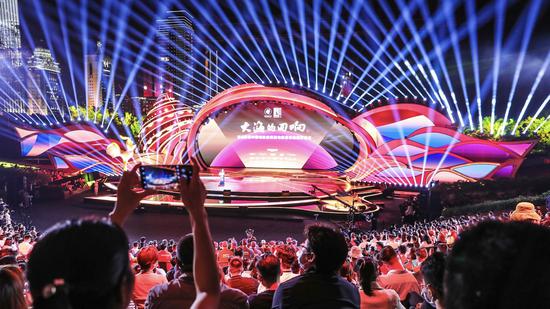 With the cool winter breeze coming from the sea, Xiamen, a city of islands in China's southeastern coast, is once again the central stage of the cinematic arts as the nation's top film awards, the Golden Rooster, returned with a star-studded movie-themed concert on Wednesday and a series of festive activities.
Featuring a dazzling constellation of movie actors and directors, such as Jackie Chan, the opening ceremony was staged at the Bailuzhou Park, a landmark in downtown Xiamen, east China's Fujian Province, showcasing a series of classic music pieces from films with musical fountains and light shows.
The event, in its 33rd edition, is running from November 25 to 28, and includes film-themed activities across the city under stringent anti-coronavirus condition. The measures include shortening the awards to four days from the traditional five-day event, as well as controlling the number of participants.
The event will culminate with the closing and award ceremony on Saturday night in which 19 winners will be unveiled. A total of 155 films have been shortlisted.
Nominees have been announced earlier this month. The acclaimed "Better Days," staring rising stars Zhou Dongyu and Jackson Yi, claiming the most 11 nominations, including best feature film. "Leap" and "My People, My Country" are another two films in a total of six running in the best feature film award.
More movies and meetings
Thanks to the annual event, there's no shortage of great films in the coastal city in the wintertime.
This year's screening section is already underway in 10 cinemas across the city and will run until November 29, showcasing over 60 titles from home and abroad.
Local viewers have 32 critically acclaimed titles by award-winning filmmakers from over 20 countries and regions available, such as "The Truth" by Palme d'Or winner Hirokazu Kore-eda and Silver Bear for Best Actress Paula Beer's "Undine" running in the International Film Panorama section. Some of which are making their China debuts.
Posters for some highly-anticipated titles to be screened during the film festival.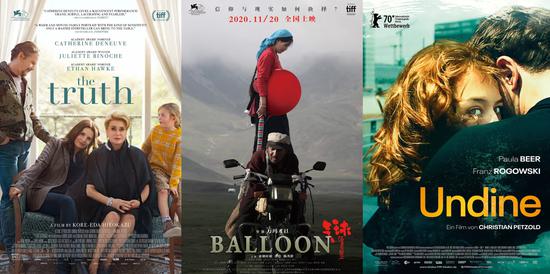 There will also be a four-day showcase of new and classic pieces from the Chinese mainland, as well as a special screening section to present films from China's Hong Kong, Macao and Taiwan.
The cast of some new releases, such as award-winning director Pema Tseden's "Balloon," will participate in the before-or-after screening events.
This year's festival launched the first Cross-Strait Youth Short Film Season in May with a key program called "New Wings" that annually selects and supports ten promising filmmakers from the Chinese mainland and Taiwan.
It allows the young directors from two sides to interact with their peers and seasoned filmmakers, and to present their works to producers and distributors during the festival.
In addition to a full slate of stellar works and a shortlist of six entries vying for the top prize, this year's cinematic extravaganza will also feature Q&A sessions with filmmakers and stars, panel discussions, film-related exhibitions and much more.
Launched in 1981, the Golden Rooster Awards is widely considered as one of the three most prestigious awards for Chinese-language films, jointly ranking with Hong Kong's Golden Statue Awards and Taiwan's Golden Horse Awards.
Last year, the organizers announced that the Golden Roosters will be held annually moving from the biennial schedule it has operated since 2005, with Xiamen becoming its permanent location.
(CGTN)