S.Korea takes 1st Olympic golf gold in century
2014-08-22 08:36:50 GMT
2014-08-22 16:36:50(Beijing Time)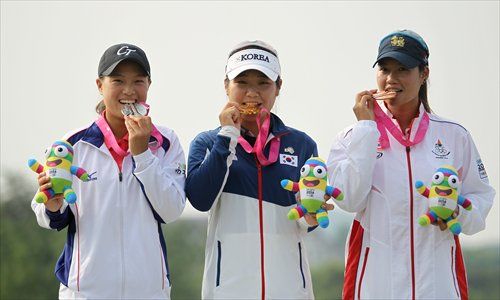 Gold medalist Lee So-young (center) of South Korea, silver medalist Cheng Ssu-chia (left) of Chinese Taipei and bronze medalist Supamas Sangchan of Thailand pose after the final day's play of the girls' golf competition at the Youth Olympic Games on Thursday.
South Korea's Lee So-young became the first golfer to win gold in Olympic play in more than a century on Thursday.
She finished 14 under par after three days' play at the Youth Olympic Games in Nanjing, East China's Jiangsu Province.
The 17-year-old fired a seven-?under-par 65 on Thursday, the best round of all the players over the three days, at the picturesque Zhongshan Golf Club. Lee was bogey-free in the second and third days and was the leader from the outset.
"I was trying hard not to think about the gold medal," said Lee. "To win the first Olympic gold medal in golf in more than 100 years, even though it is the Youth Olympic Games, is an amazing feeling."
Golf was featured in the Olympic Games' official program in 1900 and 1904. And in 2009, the IOC decided to reinstate this event for the 2016 Rio Games
Chinese Taipei golfer Cheng Ssu-chia won the girls' silver with 11 under par, followed by Supamas Sangchan of Thailand four strokes behind.
The boys' gold medalist came later on Thursday and it turned out to be Italian Renato Paratore, who totaled 11 under over the three rounds. The Italian golfer hit a three-day lowest round of the boys with a six-under-par 66 on Thursday.
Swede Marcus Kinhult ranked ?second with nine under par. Thai Danthai ?Boonma became the bronze medalist after a playoff win over Viktor Hovland of Norway.
"I was a little bit nervous watching Marcus playing the last hole," said Paratore, ranked fifth in the world amateur golf rankings.
Paratore believed his in-form tee-offs and putts were the major reason for his win before revealing his delight at winning gold in front of his father.
Dou Zecheng, the only golfer from the Chinese mainland in the event, tied in 10th place with Zan Luka Stirn of ?Slovenia.
Wei Qingfeng, an official with the China Golf Association and the team ?director, said Dou's getting to know ?other golfers means more than the ?result.
"At the Youth Olympic Games, the competing result isn't the first priority for him," Wei told the Global Times. "It's good for him to get to know the others."
Though he grabbed nine birdies in the last two days, Dou had two bogeys and two double-bogeys on the second day plus a bogey and a double-bogey in the final round.
But Wei said it means Dou is growing, as he did not stick to the tactics for playing on the course they made before the event, but tried several of his own ideas.