Crazy 'Black Friday' crowd migrating to e-commerce
2019-12-02 03:11:51 GMT
2019-12-02 11:11:51(Beijing Time)
Sina English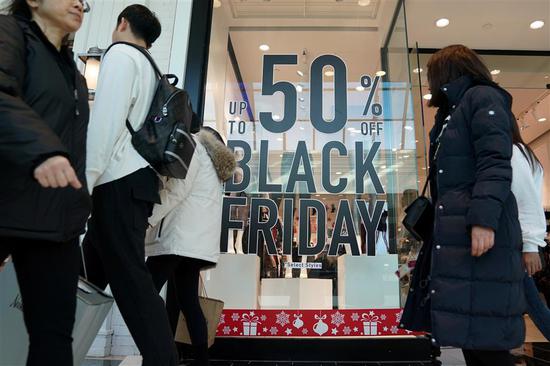 People walk through the King of Prussia mall, one of the largest retail malls in the US, on Black Friday, a day that kicks off the holiday shopping season, in King of Prussia, Pennsylvania, US, on November 29, 2019.
The US holiday shopping season officially opened with a deluge of "Black Friday" promotions but the frenzied crowds of the past have thinned out with the rise of e-commerce.
Companies in the retail, entertainment and tourism industries once again tried to entice shoppers after Thanksgiving with a bevy of offers on a day synonymous with American consumer culture and notorious "doorbuster" sales that start at the crack of dawn.
But US consumers aren't buying Black Friday the way they once did. Only 36 percent of US consumers plan to shop this year on Black Friday, down 1 percent from last year and a decline of 23 percent from 2015, according to a PricewaterhouseCoopers survey.
Black Friday will be followed in three days by "Cyber Monday," a second highpoint of spending early in the season.
Friday's sales have prompted copycat versions throughout Europe, an effort that has generated no small amount of friction.
This year's events prompted protest in parts of France, Germany and the Netherlands that included environmentalist rallies outside Amazon distribution centers and human chains blocking malls.
There has been little sign of that sort of subversiveness in the United States. Rather, the bigger emerging challenge for Black Friday has been shifting consumer patterns.
The PWC survey said that for the first time in 2019 more consumers (54 percent) said they'll do more of their shopping online than in stores.
Consumer spending accounts for about 70 percent of US economic growth and has stayed strong throughout 2019 even as manufacturing has stagnated and business investment has been lackluster. The National Retail Federation has projected that US consumers will spend an average of US$1,048 this year, up 4 percent they said they would spend last year.
(Agencies)