BiH, Sweden to strengthen bilateral ties
2019-11-07 03:24:26 GMT
2019-11-07 11:24:26(Beijing Time)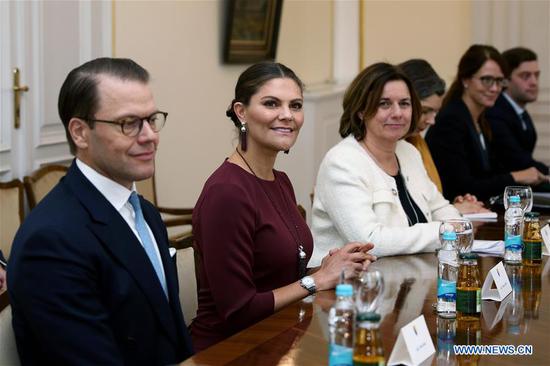 Sweden's Crown Princess Victoria (2nd L) and Prince Daniel (1st L) meet with members of Bosnia and Herzegovina's presidency in Sarajevo, Bosnia and Herzegovina (BiH), on Nov. 6, 2019. Members of Bosnia and Herzegovina's presidency and visiting Swedish royal family vowed on Wednesday to strengthen the relations between the two countries, BiH's presidency said in a statement. (Photo by Nedim Grabovica/Xinhua)
SARAJEVO, Nov. 6 (Xinhua) -- Members of Bosnia and Herzegovina's presidency and visiting Swedish royal family vowed on Wednesday to strengthen the relations between the two countries, BiH's presidency said in a statement.
Sweden's Crown Princess Victoria and Prince Daniel were visiting BiH.
During the meeting, Chairman of BiH's Presidency Zeljko Komsic, and presidency members Sefik Dzaferovic and Milorad Dodik emphasized the strong ties between BiH and Sweden and the potential for continued cooperation for the benefit of BiH citizens.
BiH Presidency members welcomed projects funded by Sweden which contribute to the overall development of economic cooperation, such as projects on climate change, environmental protection, innovation and entrepreneurship.
Crown Princess Victoria and Prince Daniel said that the Swedish government will support the development of a joint strategy for reducing air pollution and mitigating the effects of climate change in BiH, according to the presidency statement.
Sweden is the third largest donor in BiH, with 18 million euros (19.9 million U.S. dollars) in assistance in different projects.(1 euro=1.11 U.S. dollars)