Italy's winemaker adapting to fast-growing Chinese market
2020-11-28 22:35:54 GMT
2020-11-29 06:35:54(Beijing Time)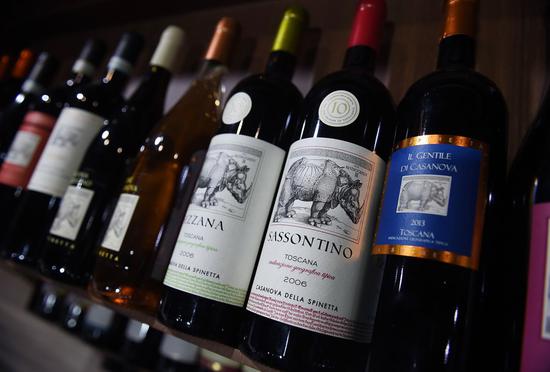 Bottles of wine from Italy are exhibited at the Food and Agricultural Products exhibition area during the third China International Import Expo (CIIE) in Shanghai, east China, Nov. 7, 2020. (Xinhua/Zhao Dingzhe)
ROME, Nov. 28 (Xinhua) -- Brunello di Montalcino, one of Italy's most prestigious and historic wines, was among the first Italian wines to market itself in China -- starting back in the early 2000s. But according to Fabrizio Bindocci, president of Brunello, it would be unwise for winemakers to stop adapting to the fast-growing and dynamic Chinese market.
"We are constantly participating in trade fairs and conferring with our Chinese partners, but that's not enough," Bindocci told Xinhua. "It's not a mature wine market like the domestic market in Italy or in other parts of Europe or in the United States or Canada. That means the ground is always changing."
Bindocci gave a specific example, noting that the original buyers of international wines were wealthy, well-traveled Chinese consumers who had been exposed to wine drinking abroad. Now, he said, it is increasingly younger, curious, self-taught wine buyers.
"That kind of change means the marketing has to change as well," Bindocci said.
According to Silvana Ballotta, chief executive of Business Strategies, a consultancy that focuses on wine and the Chinese market, Brunello and other top wines from Tuscany like Chianti Classico, the Super Tuscan wines, and Vino Nobile di Montepulciano have a natural advantage over those from other parts of the country.
"For many Chinese consumers, their awareness of Italian wine starts out in Tuscany, which they already know of through the history, culture, tourism, and food," Ballotta said in an interview.
Quoting a study, Ballotta said Tuscany is the 12th best-known wine-growing area for wine buyers in China, behind various regions in France, Australia, Chile, and Spain. But Tuscany is the top Italian region on the list.
Bindocci said sales figures for Brunello reflect that trend. He said the Chinese market now consumes around 5 percent of Brunello's exports, around three times more than five years ago.
"Things are moving fast in China," Bindocci said. "In five or ten years I can see China challenging to become one of the top markets for Brunello. We just have to make sure we adapt effectively as the market evolves."