Airstrike kills 3 in southern Libya's Tripoli
2019-12-02 02:52:01 GMT
2019-12-02 10:52:01(Beijing Time)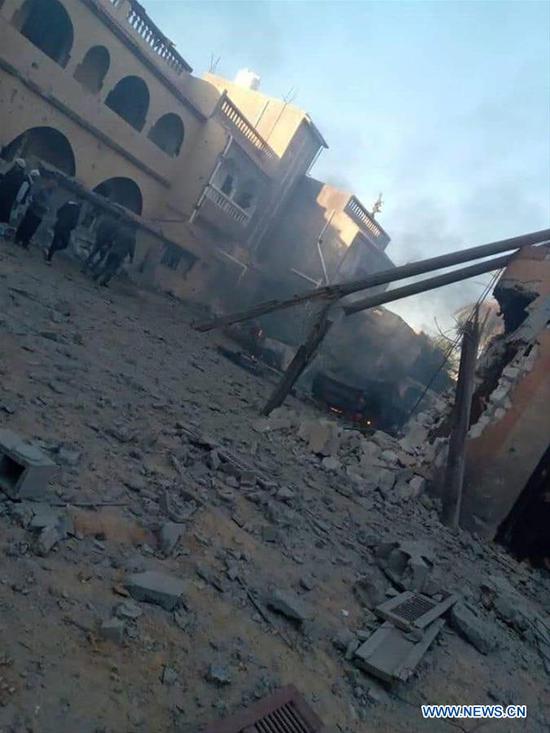 People look at the damage of a residential house hit by an air strike in the south of Tripoli, Libya, on Dec. 1, 2019. At least three people were killed and 10 others were injured on Sunday when an air strike hit a residential neighborhood in the south of Tripoli, said a medical official. (Xinhua)
TRIPOLI, Dec. 1 (Xinhua) -- At least three people were killed and 10 others were injured on Sunday when an airstrike hit a residential neighborhood in the south of the Libyan capital Tripoli, said a medical official.
"Three civilians were killed and 10 others were injured by an airstrike that hit a residential area in Swani (southern Tripoli)," Amin al-Hahmi, information adviser of the Ministry of Health, told Xinhua.
The forces of the UN-backed government accused the rival eastern-based army of the airstrike, on which the eastern-based army has not committed so far.
The UN-backed government's forces posted photos on their official Facebook page, showing damage caused by the airstrike to the area and bodies lying on the ground.
The eastern-based army, led by Khalifa Haftar, has been leading a military campaign in and around Tripoli, attempting to take over the city and topple the UN-backed government.
Thousands have been killed and injured in the fighting, and more than 120,000 people have been displaced from their homes.
Libya has been suffering escalating violence and political instability ever since the 2011 uprising that toppled the late leader Muammar Gaddafi's regime.