Pompeo meets with Saudi FM on ties, Iran
2020-02-13 03:44:37 GMT
2020-02-13 11:44:37(Beijing Time)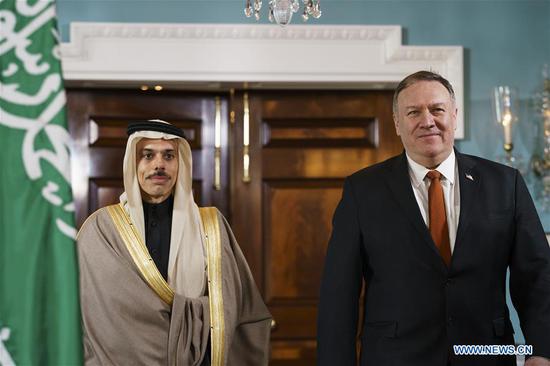 U.S. Secretary of State Mike Pompeo (R) meets with Saudi Foreign Minister Faisal bin Farhan Al Saud in Washington D.C., the United States, on Feb. 12, 2020. (Photo by Ting Shen/Xinhua)
WASHINGTON, Feb. 12 (Xinhua) -- U.S. Secretary of State Mike Pompeo on Wednesday met with visiting Saudi Foreign Minister Faisal bin Farhan Al Saud here discussing bilateral ties and Iran, said the U.S. State Department.
Pompeo talked about the U.S.-Saudi partnership to confront Iran's threats, said the department in a statement.
The two sides also discussed recent violence in Yemen and the need to return to de-escalation, the statement added.
Since its unilateral exit from the Iran nuclear deal in 2018, Washington has been mounting pressure on Tehran through a series of sanctions. Iran has maintained a tough stance and scaled back its nuclear commitments in response.
The strained U.S.-Iran tensions have escalated sharply since Qassem Soleimani, former commander of the Quds Force of Islamic Revolution Guard Corps, was killed near Baghdad International Airport by U.S. drone strikes in early January.